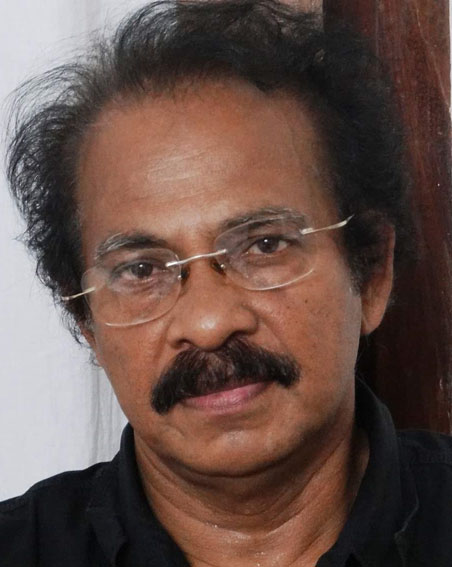 ×
I was born in Trivandrum, a city in Kerala, South India. A former professor of History, I have 40 years of active involvement in the field of art. I have 2 Studios-one near Napier Museum, Trivandrum, and one in Pattambi, a small town in Palakkad district of Kerala.

I have conducted 23 Solo Exhibitions in several important cities of India and 3 Solos in Holland. I have also participated in a number of important group shows.

In my days of student hood, I was a naturalist. As I matured as an artist, I was inspired by the surrealist movement. My surrealistic works from 1980 to 2000 were exhibited in major cities of South India like Bangalore, Hyderabad, Visakhapatnam etc. In 1996 I was invited to Holland to conduct an exhibition by Galerie Schoe (Lotus Galerie). In the subsequent years, I was able to do two more solos in Holland.

In the 2000s, my works moved towards abstraction and I partially discarded surrealism. The year 2018 was transformative for my art, as I began to get fascinated by the function and appearance of modern machines. I started to incorporate them into my paintings.

Machines are everywhere in the field of human activities and no one can exist without them. At present they serve as a motif for my art.

About my present works

I consider my art as a performance to heal my existence. It is a long journey to some unknown destination that one cannot reach till his life is spent. My journey had various turning points as a romantic painter, a surrealist, an abstractionist in search of new images, forms, colours and patterns. It is a journey through zigzags, flotations and oscillations, between the obvious and the subtle.

Motifs of machines fill my recent works. Machines and discarded mechanical objects began to appear in my paintings way back in the 80's. But then, all of them were used as supportive elements to the main theme. Now, I am fascinated by their appearances and functions. Machines are manmade and have served as a productive force throughout Time. From their first appearance as stone and bronze implements and the wheel to today's machines of iron and plastic and various metallurgical innovations, machines have become an indispensable part of human life. During the first and second world wars, they came as Aeroplanes, Patton Tanks, Motorcars, Ships, Boats…

In the modern age, the role of machines has changed radically. For every extension of human desire, there is a machine. Be it in Agriculture, Industry, Transport, Communications…in the sky, in water, in space, in the warfront…They often induce a sense of fear and awe within me. Their heaviness, strength, vitality and dexterity transport me to the world of imagination and fantasy. I see a moving locomotive, an approaching aircraft, a heavy earth mover, an armoured war vehicle, in front of me…Their appearance creates a feeling of proximity to an animal of gargantuan proportions like the Dinosaur, a disturbed Elephant or a swift moving Cheetah…Their perfection astonishes me. Their forms disturband attract me at once. I am convinced that they limitlessly extend the possibilities of the human senses.

I like to paint machines. I pay my tribute to the thousands of known and unknown people who have devoted their lives for the evolution of modern machinery.

Solo Exhibitions



Kerala Lalithakala Akademi Gallery, Durbar Hall, Ernakulam (Cochin), 2020
Jahangir Art Gallery, Mumbai, 2018
Roerich Gallery, (Roerich Research Centre), Nagar, Manali, 2016
Sreedharani Gallery (Triveni Kala Sangam), New Delhi, 2016
Alliance Francaise, Thiruvananthapuram, 2015
Triveni Gallery (Triveni Kala Sangam), New Delhi, 2014
Triveni Gallery (Triveni Kala Sangam), New Delhi, 2013
Academy of Fine Arts and Literature (Arpana caur's Gallery), New Delhi, 2012
Birla Art Gallery, Culcutta, 2011
Shangrilla Art Gallery, Thiruvananthapuram, 2010
Russian Culture Centre, Thiruvananthapuram, 2009
Kerala Lalithakala Akademi Gallery, Thiruvananthapuram, 2005
Nehru Centre Art Gallery, Mumbai, 2002
Chithranikethan Art Gallery, Thiruvananthapuram, 2000
Lalithakala Akademi Gallery, Calicut, 1999
Galerie Hendrik Bekkman, Marrum, Holland, 1997
Galerie De Artist, Holland, 1997
Galerie De Stalling, Holland, 1996
Alliance francaise, Hyderabad, 1994
Alliance francaise, Bangalore, 1993
Indo-French Culture Centre, Visakh, 1992
Alliance francaise, Thiruvananthapuram, 1991
Museum Auditorium, Thiruvananthapuram, 1985



Major Participations



Duality, 2019, Alliance Francaise, Thiruvananthapuram
Art Alliance, Raveendra Bhavan, New Delhi, 2014
Art Yatra by Kareesa Jewels, Mumbai, 2012
Group Show in Galerie De Compagnie, Holland, 2008
Sangamam, International Exhibition conducted by Chitraniketan Art Gallery, 2000
Group Show 1999 at www.artgallery.com (an exclusive cyber space for Indian Contemporary Paintings)
Kerala Lalithakala Akademy Annual Exhibitions etc.